What To Do About
Mold In Your Home

If you recently found mold in your home, you are probably searching the internet to figure out what to do. This step-by-step guide will answer all of your questions. Don't panic, it may take some time but you will get past this. The key is to educate yourself and do it right the first time so the mold does not return.

Please note that this page was written to help homeowners. If you live in an apartment or rental house, here is information about the landlord responsibility for mold.

Taking Care of Your Mold Problem - Steps
1. If you have been suffering any illnesses that wouldn't go away like allergies, itchy eyes, sore throat, headaches, fatigue, etc., go see your doctor and explain to him that you have mold in your home. Knowledge about the mold will help him to correctly treat you. Here is more on the symptoms of mold exposure.
2. Have your home tested by a trained mold tester. Many people make the mistake of cleaning up the mold without testing. It is important to know the type of mold your dealing with, and how bad the problem is. Most mold testers are engineers so they can give your home a thorough inspection to find all the mold. If it's a small problem they may recommend cleaning it yourself, and will give you advice on removing it. If it's large job and a removal service needs to be hired, they will oversee the cleanup and supervise the removal process. When the cleanup is done, they will come back and test again to make sure the removal was properly done. Make sure if you hire a removal company that you don't pay them until the final testing comes back showing the home is clean. For a list of licensed mold testers in your area, follow the link.
3. Identify the cause of the mold. Make sure during the cleanup that it is fixed so that the mold will not return. If there was a leak in the roof, make sure its repaired. If a pipe causes a water leak in a wall, make sure its fixed. If the humidity level on your home humidifier is set too high, make sure it is turned lower. You don't want the mold to return. Here is more information on the causes of mold.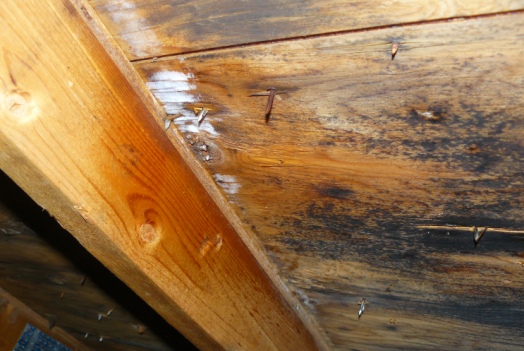 4. Contact your insurance company and find out if mold removal is covered in your policy. In many cases it is, depending on the cause of the mold. This article on homeowners insurance and mold explains it well.
5. After getting your mold test results and speaking with the mold tester, decide if you are going to remove the mold yourself or hire a professional to do it. This articles discusses when you should remove mold yourself, and when you should hire a mold remediation professional. Here is more information on the cost of mold removal if you hire a professional to do it.

6. Have the mold in your home removed. If doing it yourself, here is more information on the mold remediation process. Mold removal is a much more complex process than most people realize. You don't want to spread the mold to other parts of your home. You also don't want to make yourself sick from breathing in mold during the removal process. Personal safety is very important and you must be overly cautious.
7. If you are going to hire a professional mold remediation company, make sure you get a few estimates and choose a company that you believe will do a thorough job. Be sure to check with your local Better Business Bureau or Health Department to make sure the company has a good reputation. Ask for recent references. Ask the mold tester if they are familiar with them. Here is more information on how to choose a mold removal service. For a list of Mold Remediation Companies in your area that offer free home inspections and estimates, follow the link. Do not use a remediation company affiliated with the mold tester. You want an independent company with no conflicts of interest. Here is information on common mold scams to look out for.

8. We recommend purchasing a book on mold and the removal process such as Brian Turners A Homeowners Complete Guide To Performing Mold Remediation. It is important to educate yourself on the mold removal process so that you are sure everything is done correctly. This book is quite thorough. The link takes you to our review of this book.

9. After the mold in your home has been removed, have the tester come back and air-test for mold. They will be able to tell you if the levels of mold are acceptable. Remember it is impossible to remove all of the mold. The goal is to try to get the levels inside your home the same as outside your home.
10. Be proactive in the future about mold prevention. Here is more information on preventing mold.
If you have any questions about mold in your home, feel free to contact us.
Additional Reading:
Common Mistakes Made by Mold Remediation Companies - Even the most careful remediation companies can make mistakes, but you can protect yourself if you know what to look for.
Home Selling and Mold - Disclosure information if you are selling a home with mold. How to know if a house you are buying has mold.
Mold in Apartments - Who is responsible for removing mold in rental apartments. Landlord and tenant responsibilities.
Mold in College Dorms - What to do if you find, or suspect, mold in a college dorm room.
Fireplace Mold - How to know if you have mold in your fireplace. Finding it, health concerns, removal.

Moldy Furniture - Guidelines for dealing with moldy or water damaged furniture. What can be saved, what needs to be disposed of.
Mold in Toilet Bowl or Tank - Tips for cleaning mold in your toilet. How to prevent it from returning.
Mold in Lake Houses, Cottages and Cabins - How to deal with mold, causes of mold in lake houses, cottages and cabins, removal guidelines. Preventing recurrence.
Mold in Your RV - How to remove and prevent mold in RV's.

Return From What To Do About Mold In Your Home to Our Homepage
Resources:
EPA: Guide to Mold and Your Home
Health Canada: Mold and Your Health