Do It Yourself Mold Removal

Many homeowners are interested in do it yourself mold removal. They want to know how to clean mold themselves because they want to save money. Some also like the satisfaction of doing a job themselves. In some cases, it makes sense to handle a household mold problem yourself. Sometimes, though, it's necessary to call in a professional that knows how to properly and completely remove mold.

When Is Removing Mold Yourself a Good Idea?
Cleaning up mold yourself may be a good idea if:
The mold only covers a small area.
The mold is growing on easy-to-clean surfaces like glass, metal, tile, tubs, or sinks.
The mold is growing on hard-to-clean materials, like carpet, that are easy to remove and replace and you know how to do it properly.
You don't have any health problems likely to be made worse by increased exposure to mold (check with your doctor if you're not sure if it's safe for you to clean up a mold problem yourself).
Of course, you always have the option of hiring a professional for the job if you don't want to do it yourself or simply don't have the time or energy for what can be a time-consuming process.
When Is Do It Yourself Mold Removal Not Such a Good Idea?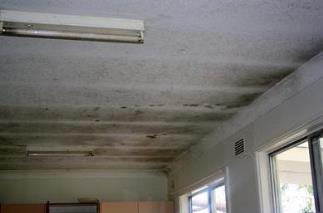 In some situations, it's better to call in a mold remediation professional for assistance. Cleaning up mold yourself is probably not such a good idea if:
The mold covers a large area (greater than three feet by three feet, according to the Environmental Protection Agency).
Mold develops after flooding with water that might be contaminated with sewage or other potentially hazardous substances.
There is mold in your heating, ventilation, and air conditioning system (most homeowners have neither the knowledge nor the equipment needed to properly remove mold from their HVAC systems).
You aren't sure how to do all parts of the job correctly (if, for instance, there is mold inside your walls and you don't know how to remove and replace drywall) or you don't have all the tools required to do the job (such as a drywall saw, if you need to remove moldy drywall).
You have moldy wood that cannot be removed and replaced, so the moldy area needs to be sanded and encapsulated instead (it's recommended that only mold remediation professionals sand moldy wood since it significantly increases one's exposure to mold, which can lead to potentially serious illnesses).
You smell mold but can't find it. Hidden mold can be in the subfloors, attic, inside walls, under carpets, in your crawlspace, etc.
You have a medical condition that might be made worse by increased exposure to mold, like asthma, environment allergies, or an immune system disorder (check with your doctor if you're not sure if increased exposure to mold may exacerbate your medical condition).
You are already experiencing symptoms of mold-related illness, such as sneezing, coughing, runny nose, shortness of breath, wheezing, headaches, sore throat, or chronic sinus infections.
In some instances, homeowners handle part of the job themselves while calling in a professional for other parts of the job, like removing mold from their HVAC system.
For Help with Mold Removal
If you need help with mold removal, or if you'd just like some professional advice before trying to remove it yourself, we suggest consulting with a mold remediation specialist. You can schedule a free in-home consultation with a professional that knows how to properly find and remove mold. You can get some free expert advice and then determine whether or not it's a job you're prepared to tackle yourself. There is no charge and no obligation, so there's nothing to lose. Just follow this link to find experienced mold remediation specialists in your area.

Return From Do It Yourself Mold Removal To Our What To Do About Mold Page