Best Home Dehumidifier
To Help Prevent Mold

Readers often ask us when searching for a home dehumidifier, what is the best home dehumidifier to help prevent toxic mold. We would like to offer some suggestions to help you choose the right dehumidifier for your needs. Since different homeowners sometimes have different needs, it's hard to point to just one dehumidifier that is right for everyone. Instead, we will provide a dehumidifier comparison guide to help you choose the correct home dehumidifier for you and your individual situation. Keep in mind, the range of relative humidity required to help prevent mold growth in a home is between 30 and 50 percent.

Comparing Home Dehumidifiers
When comparing home dehumidifiers, you need to consider a number of factors. These factors would include the following:
Removal Capability - this refers to how many pints of moisture a dehumidifier can remove from the air in a twenty-four hour period under average conditions. This is called the dehumidifier's AHAM rating, established by the Association of Home Appliance Manufacturers.
Size

(Area's Square Footage)

– how large, in cubic feet (length times width times height times) is the room or area that requires dehumidification. Once you determine the size, consider purchasing a dehumidifier that will handle a slightly larger amount of cubic feet (always go bigger, never smaller).
Type – there are three basic types of dehumidifiers: refrigerant, low-grain refrigerant (LGR's), and desiccant. The difference between them is the low-grain refrigerant and the desiccant will work more efficiently once the humidity level drops below 40 percent. For most home applications, these types will not be necessary.
Extra Features – automatic pump-out is a nice feature (constantly having to empty the dehumidifier's reservoir is not fun), or automatic shut-off if the reservoir fills up, also a humidity control that allows you to adjust the humidity level desired.
Of course, another important factor in choosing the best dehumidifier for your home will be cost. However, things like energy efficiency must be considered as well, because choosing the dehumidifier that best suits your needs will save you money down the road in home energy costs.
Dehumidifier Brand Choices
Next we will look at some popular brands of dehumidifiers, examining the pros and cons of each, considering the available features, and also checking to see how consumers rate them. We encourage you to read consumer reviews when selecting a dehumidifier for your home, so you can see what other homeowner's think of the dehumidifier you are considering purchasing.
hOmeLabs – hOmeLabs dehumidifiers have built-in wheels and handles and have adjustable moisture setting capability. Owners say that these come at a lower price but they also complained about more noise and without care, it was easy to damage the water tank. hOmelabs dehumidifiers are budget-priced.
Eva-Dry – Eva-Dry offers dehumidifiers in several sizes, including a "petite" size that is small enough to sit on a desk or workbench. They have an automatic shut off if the water bucket gets full. Consumers generally reported these dehumidifiers work well but some complained about the noise. Eva-Dry dehumidifiers are moderately-priced.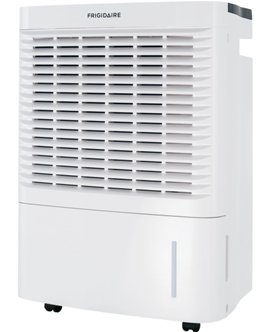 Frigidaire 95-Pint Unit
Friedrich – Friedrich offers dehumidifiers in several sizes, including 50 pints and 70 pints. They have an automatic shut off if the water bucket gets full and can also be set up to drain continuously if located near a suitable drain. Some consumers reported a loud rattling noise while others said their Friedrich dehumidifiers ran quietly. Friedrich dehumidifiers are moderately-priced.
General Electric – General Electric offers dehumidifiers in several sizes, including 50 pints and 65 pints. They have an automatic shut off if the water bucket gets full and are energy-efficient appliances. Many consumers complained about these models not working well or breaking shortly after their warrantees expired. General Electric dehumidifiers are reasonably-priced.
Ivation – Ivation has dehumidifiers in various sizes including 30 pint, 50 pint, 70 pint, and mini units for smaller areas. Features include LED settings, auto-shutoff and restart, and continuous draining if you use a hose hookup. The overall feedback was satisfactory, but consumers reported that they ran very loud, and the manufacturer was difficult to get in touch with if there was a problem. Ivation dehumidifiers are competitively priced.
Of course, there are many other brands of dehumidifiers on the market. As discussed earlier, what size dehumidifier is needed should be your primary concern. Cost, how much noise a dehumidifier makes while running, how well it lowers humidity, and how long the appliance lasts are also factors to consider.
A Professional Hint
One way to make your dehumidifier perform better is to use a fan to help "stir" the air. Dehumidifiers work by evaporating moisture from the air. The moisture needs to somehow get into the air in order for a dehumidifier to evaporate it. Air movement across any surface will pick up moisture and put it into the air, making it easier for the dehumidifier to do its job.
Our Choice for the Best Home Dehumidifier
As you can see from the above dehumidifier comparisons, there are many brands from which to choose when selecting a dehumidifier. We think Frigidaire offers the best home dehumidifier, regardless of which size you need, based on available features and value. Frigidaire offers 30-pint, 50-pint, 70-pint and 95-pint dehumidifiers. Available features include an automatic shut off if the water bucket gets full, digital humidity readout, and the ability to set them up to drain continuously if located near a suitable drain. All models are Energy Star rated for energy efficiency. Consumers rate them highly based on their performance, and the reviews on Amazon are better than for any other brand. Follow this link to Amazon.com to learn more about our preferred home dehumidifiers and to read the consumer reviews.
**Note** Dehumidifiers can help prevent mold, but will not eliminate mold if it is already there. If you have mold in your home, or suspect that you may have mold, follow this link to our step-by-step guide for dealing with mold in the home.
Return From Best Home Dehumidifier To Home Page