Hair Loss From Mold Exposure
Hair loss is usually caused by genetics, but not always. Other causes include:
alopecia areata, an autoimmune disorder in which the body attacks its hair follicles
hormonal changes, such as those that occur during pregnancy and menopause
scalp infections and certain skin disorders 
trichotillomania, a form of obsessive-compulsive disorder in which people compulsively pull out their hair
certain medications, including some used to treat cancer, arthritis, high blood pressure and depression
radiation therapy
any major surgery done under general anesthesia
A lesser-known potential cause of baldness is exposure to mold in the home. Many people are not aware of that but it's something to look into if you're losing hair and aren't sure why.
How Does Mold Cause Hair Loss?
Many people are allergic to mold and an allergic reaction can trigger the loss of hair. Here's how it works.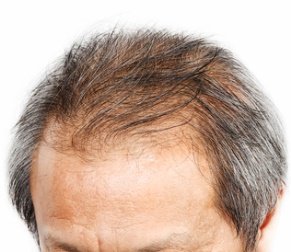 When you come into contact with an allergen such as mold, it triggers the production of a chemical called histamine in your body. Histamine causes itching and that's why antihistamine medications are often used when someone experiences an allergic reaction. Those medications counteract the histamine and relieve symptoms.

According to WebMD, histamines also causes inflammation which restricts blood flow to the hair follicles. The lack of adequate blood flow can damage the hair follicles and cause hair to fall out. You won't lose hair after a single brief exposure to mold but long-term exposure may cause increasing baldness.
An allergic reaction to mold can cause loss of hair all over your body, not just on your head. Loss of head hair is simply more noticeable than loss of body hair in many instances.
Treating Mold-Related Hair Loss
If you're concerned about losing hair, see your doctor. Dermatologists (doctors that specialize in treating skin conditions) often treat loss of hair and there are also doctors and clinics that specialize in it. 
If you are experiencing other symptoms related to mold exposure, though, or suspect exposure to mold in the home is causing you to lose hair, we suggest you see your internist or primary care physician. Other symptoms of mold exposure may include respiratory problems, coughing, sneezing, eye infections (like conjunctivitis or pink eye), ear infections, sore throats, sinus infections, bronchitis, asthma attacks and/or hives. You can read more about mold-related health problems.
Because hair loss can be caused by so many things, it may take a little time for your doctor to make a diagnosis. You may need some tests, including blood tests. If your doctor determines that an allergic response to mold is causing you to lose hair, you may be referred to an allergist, a doctor that specializes in the treatment of allergies. Allergy testing may be done to confirm the diagnosis, a procedure in which your skin is pricked with various allergens to see which ones cause a reaction.
Be sure to let your doctor know about all the symptoms you are experiencing, even if they seem unrelated to your loss of hair. Let your doctor know if you have been exposed to mold.
A mold allergy may be treated with antihistamines and corticosteroids to reduce inflammation and other symptoms. Allergy shots, also called immunotherapy, may be recommended in some cases. That involves receiving weekly injections with a customized serum designed to stimulate your body to develop resistance to allergens, similar to the way vaccines work. In order to recover fully, however, and stop losing hair, you'll need to arrange to have the mold removed from your home.
Mold Removal
It is important to have the mold removed from your home as quickly as possible so that your hair will stop falling out and your other symptoms will resolve. If you are experiencing a severe allergic reaction to mold – and if a mold allergy is causing you to lose hair, it is fairly severe – you should not attempt to handle the mold removal yourself because it will further exposure you to the mold that is causing your symptoms, making you even sicker. To protect yourself, you should arrange for someone else to do the work for you.
You can schedule a free consultation with a mold removal professional to discuss the work that needs to be done in your home. There's no cost and no obligation on your part, so you have nothing to lose. Be sure to ask about safety precautions you can take to protect yourself during the mold removal process. Follow this link to find experienced mold removal professionals offering free consultations in your area.
Return From Hair Loss To Our Main Symptoms Page