Apartment Aspergillus Mold, Mold Tests Rated Toxic Levels
Had a Certified Registered Mold Expert do a dozen Mold Quality tests 60 days apart. Results were Toxic Mold levels. City has hundreds of Citations filed & dozens of Fire Marshal Citations filed against my landlord. Management and Maintenance did nothing to resolve the issue & justified the river of water from the HVAC as normal and said they can't do anything to stop the water leaking into kitchen, bathroom & bedroom ceilings & walls, all the while severe black mold grew everywhere. I've never been so deathly ill in my life. It was hell and the company who did the Air Quality Mold tests said in the 35 years he's been in business he's never had such horrific results of "Aspergillus Mold ". This exposure cost me a normal life I am still recovering from 4 years later. Aspergillus Mold can kill you and damn near did me. It caused paralysis & affected my organs. Blood tests had positive results from exposure. I loved my Apartment and it's very sad this happened. This was almost a death sentence to me.

My State Farm Insurance Adjustor told me, "this is a legal method to commit murder and he's seen some bad cases but this was the worst". He was in Apartment 5 minutes & and had to get out as his throat & eyes was burning. Yet Management & Maintenance staff said, black mold is everywhere and this is no big deal, they deal with it daily... Sadly, finding an Attorney to file suit against this Company has been to no avail in Kansas City, MO even with tests, filings with City, photos, mold remediation costs/ documents and medical expenses. I have a notebook full of documents to make them accountable. This isn't rocket science. Frustrating after all I've suffered.


Reply
We are sorry to hear how mold has affected you. Unfortunately, we hear this quite often as many landlords do not care about their tenants, and do not want to spend the money necessary to properly maintain their properties.
Anyone in an apartment that finds mold needs to contact their local or state department of health. They will take charge of the situation and force the landlord to remove the mold to their satisfaction. If the mold is severe enough they can condemn the apartment. They will let you know if it is safe to remain in the apartment.
Here are some articles that provide additional information:
Aspergillus Mold
- Information on the dangers of exposure to aspergillus mold in the home.
FAQ About Mold in the Home
Photos of Mold in the Home
Causes of Mold in the Home
How to Get a Free Home Inspection From a Mold Removal Specialist
Mold in Basement of Rental Home
by Olivia
(Ontario Canada )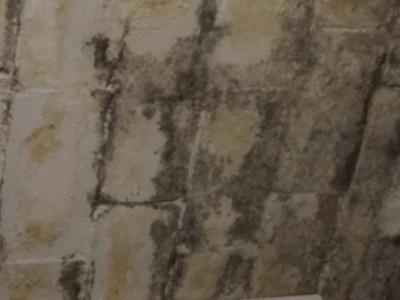 Basement wall
Hi, I have been living in a home for 3 1/2 years which I rent. I believe it has mold damage because my daughter and I suffer from the typical mold exposure symptoms. Please look at the photos, your feedback would be greatly appreciated!!


Reply
Thank you for contacting us and sending the pictures. It certainly looks like mold, but the only way to be sure would be to have
testing done
. We recommend you contact your local department of health and get them involved. They usually treat mold issues very seriously and will force the landlord to quickly fix all associated problems.